Mending Broken Hearts

Fairy tale books are filled with happy endings of couples living happily everafter. But for many Latinas, divorce is not only shattering girlhood fantasies but breaking cultural expectations. Still, with determination, perseverance and faith, Latinas are rising from the shadows of broken hearts and emerging as conquerors over their trials.

Maria Costa, 54, shares personal insights from her divorce in seminars based on her self-published book, "When the Vows Break: Living Through Separation and Divorce."
Lessons from her painful season help many women gain support through dating, parenting and other such topics through her Web site "Ask the Divorced Woman" on http://www.divorcesource.com/.
Among the many issues Costa encounters with divorced women, "Finances are the most vulnerable spots," she says. While she acknowledges many Latinas feel uncomfortable seeking help from a professional financial advisor, Costa stresses the importance of receiving a financial check-up. "For Latinas, it's almost as bad as asking someone to strip in front of a total stranger," she says. "It's important to survey your financial situation, IRA 401-K and problem areas."
Costa has now become a financial and estate planner, her mission is to help others regain financial security after a divorce.
But Costa is not a stranger to financial crisis. After her divorce, she supported two small children without her ex-husband's support. To supplement her full-time job at the FBI and raise her future earning potential, she took a part-time job as a waitress and enrolled in college.
Later, she received her bachelor and master's degrees in management. "Education not only gave me the knowledge but the confidence to succeed," she says. Since then, Costa has received several promotions at the IRS in Washington, D.C. and now boasts a six-digit income.
Part of the divorce process inevitably affects children. Costa stresses protecting children from being used as pawns in the divorce process. "Concentrate on the kids," she says. "Don't put them in the middle and never use the kids to get a message to your ex-husband."
For some women, divorce recovery is as basic as learning how to use an alarm clock to be on time for their first jobs, according to Ann Cruz-Green, 50, coordinator of the Women's Service Center at the Glendale YWCA Domestic Violence Project in California.
Working with domestic violence survivors has helped Cruz-Green deal with the emotional scars from divorcing an abusive and alcoholic husband.
"My past is now helping me in my job," she says. "Because my life has exposed me to survival skills, I have insights to help these women."
Resilience has been a faithful companion for Cruz-Green and her children as their dreams of improving the quality of life have met continuous roadblocks. Even though she earned her bachelors degree in public administration after her separation, Cruz-Green was forced to seek government aid during several long unemployment spells. Also compounding her struggle to stabilize from marital chaos was the medical diagnosis that her son had high-functioning autism. Still, "You just don't give up!" she says. "No matter what happens to you, there is another day that will happen, another opportunity for you. A survivor leaves things in the past."
Cruz-Green's children have also had to learn to persevere. "The challenges my children have faced have made my kids infinitely more flexible," she says. "They know it's not the end of the world, they just deal with it."
Alicia Villarreal, 37, was married four years to an abusive and alcoholic husband who stalked her and threatened her life long after they were divorced. "I was raised not to be divorced," she says. Like many Latinas considering divorce, Villarreal felt pressure from others telling her, "Aguantate por tus hijos." But she says it was her children's well-being and her personal safety that finally gave her the courage to get a divorce even though it defied cultural expectations.
How did she cope amidst constant physical threats while pursuing an education and caring for her 20-month-old and 4-week-old children?
"God has played an important role in my life," she says. "At the time of my trials, though," she confesses. "I didn't understand why I was going through this. But, I learned to look at it as if something positive would come out of it."
And it did. Villarreal is now president and CEO of Latino Family Services, a non-profit organization that provides mental health services to Latinos in Detroit, Michigan. She has also been the recipient of numerous awards including being named one of Michigan's most influential Hispanics. "I love my work and my life," she says.
Recalling the emotional effects from her breakup, Villarreal says, "You can expect depression after the divorce. It's a natural part of the grieving process," she adds, "The healing process isn't like a microwave solution. It's more like a slow-cooker."
Despite enduring life-threatening assaults from her ex-husband as recently as five years ago when she was already in an executive position, Villarreal believes that forgiving everyone involved in the breakup, including herself, is an important part of divorce recovery.
"It's definitely not easy," she admits. "I forgave my ex-husband a long time ago." She attributes her ability to surrender her anger and break through the protective wall that kept her from healthy relationships with her family to prayer. "When you don't forgive, you are only imprisoning yourself for the rest of your life."
"Once the decision to divorce is made, as difficult as it is," Villarreal suggests focusing on yourself and not your ex-husband. "Figure out what you want. What do you need for your children and family?"
To heal from the emotional scars from the end of a relationship, Villarreal recommends that Latinas discover their interests, learn to be kind to themselves and speak positive things about themselves. She also stresses the need to find a support system.
"Celebrate your life. It's not over," she says. "In some cases, it's just beginning."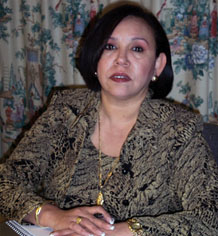 How to Heal a Broken Heart

Cristina Talavera, a former Radio Unica marriage and family therapist, advises on how to build your strength back after a stressful relationship.
Visit www.psicologiapopular.com for more information.

Have the courage to:

• Remember that you are not alone because you are your own best friend.

• Leave the past behind and live the present positively and look to the future with optimism.

• Go out, engage in activities and meet people that make you
feel good about yourself.

• Take whatever steps necessary to achieve financial independence. Adult education is fun.

• Depend on yourself for emotional support, and don't burden your children, family or another man.

• Sincerely recognize the cause of the divorce and avoid the same problem twice.

• Achieve emotional and financial stability before entering into a serious relationship.

Happiness is a decision. Take the necessary actions to achieve it. There is a love that heals a broken heart. Love yourself!